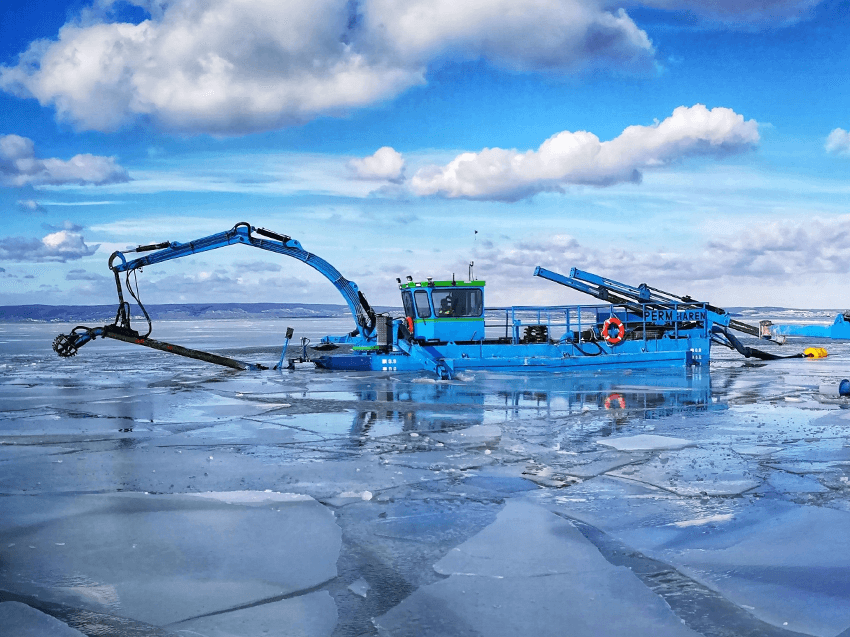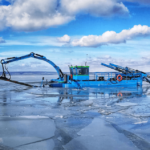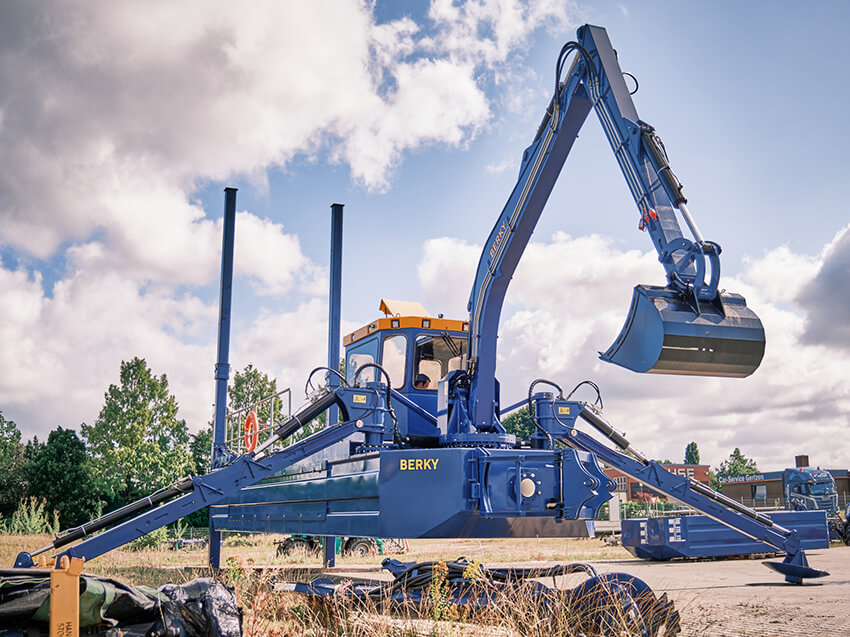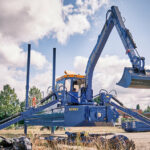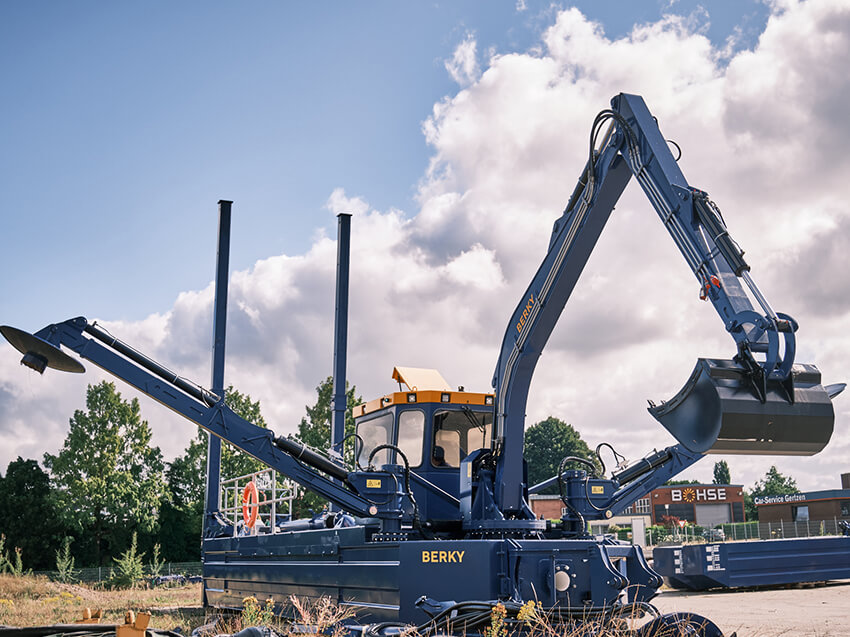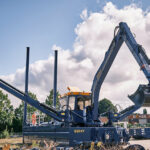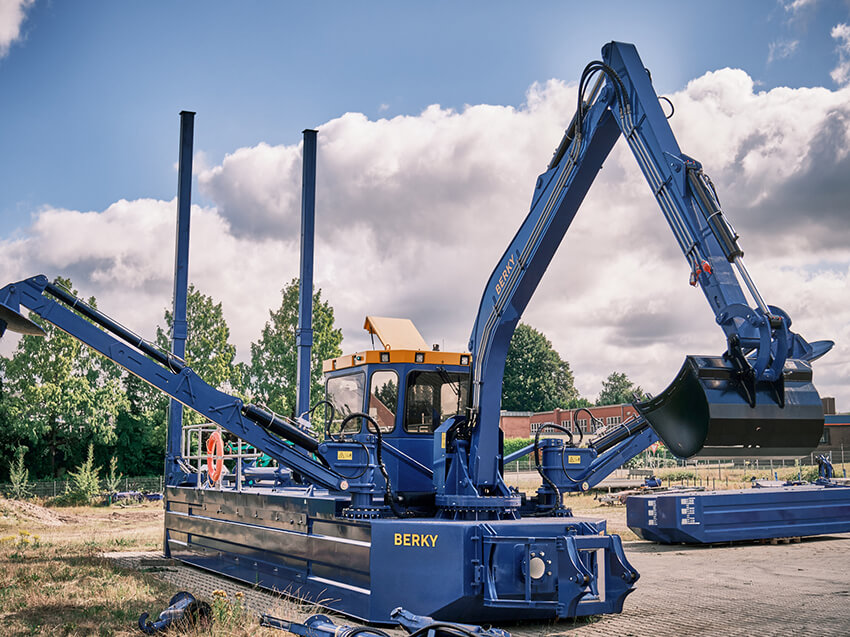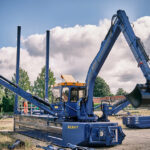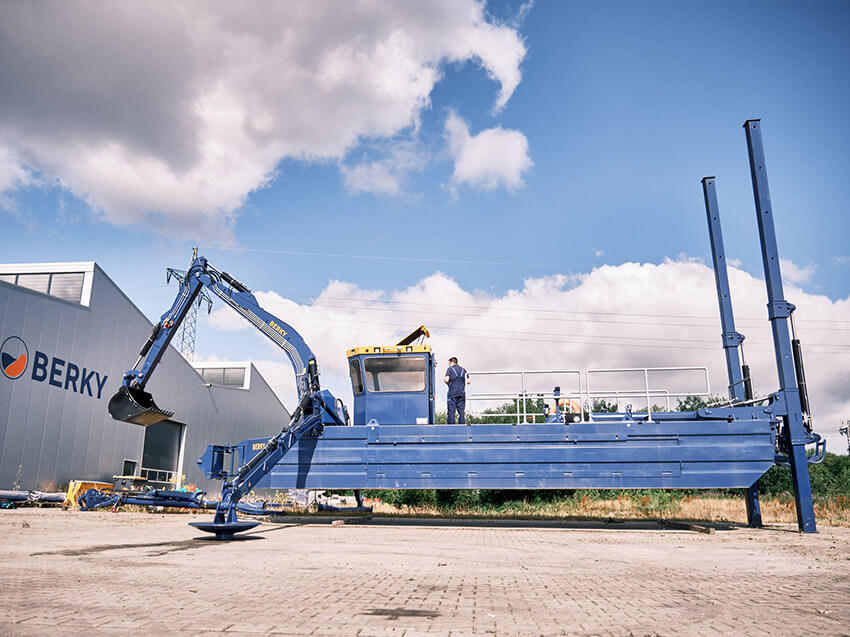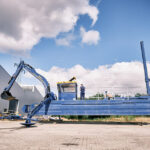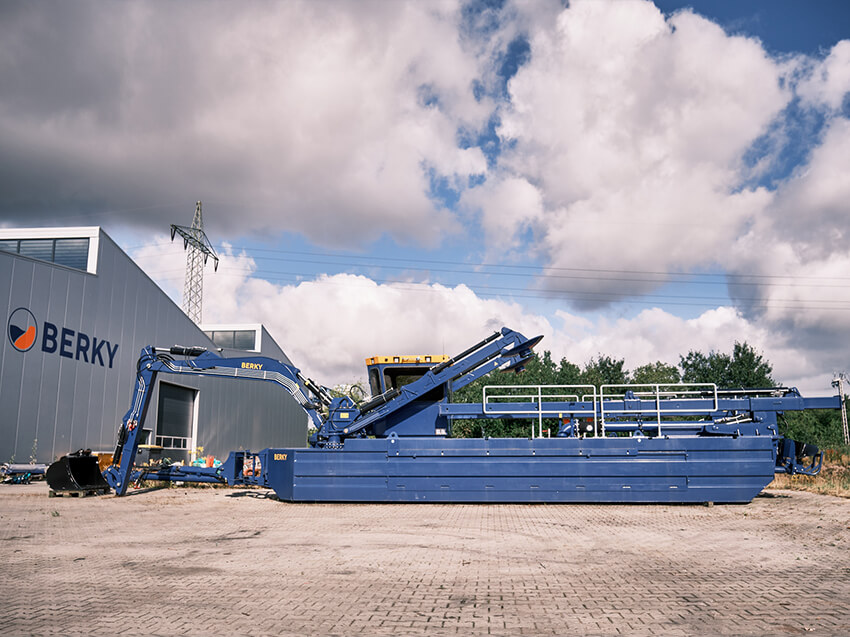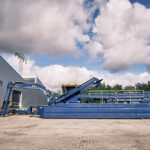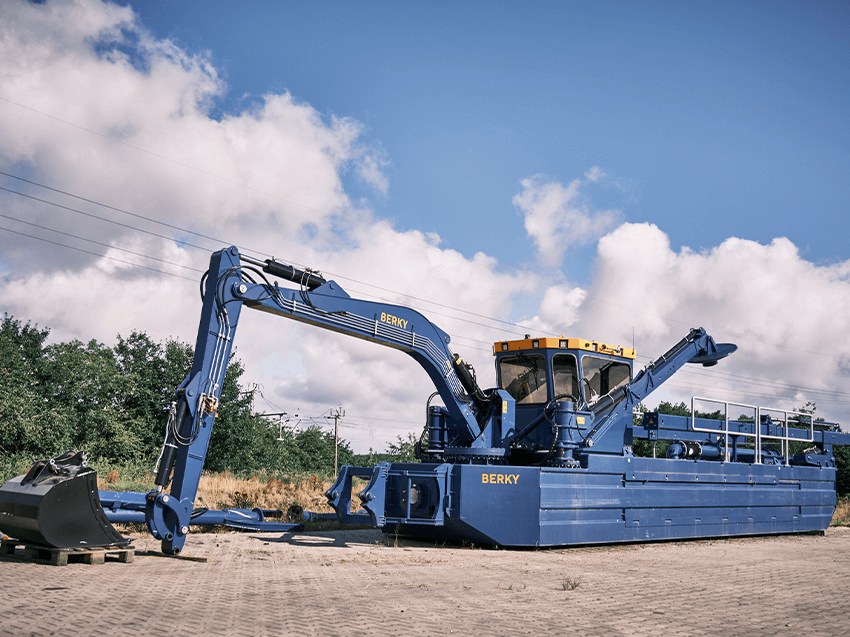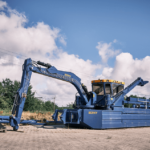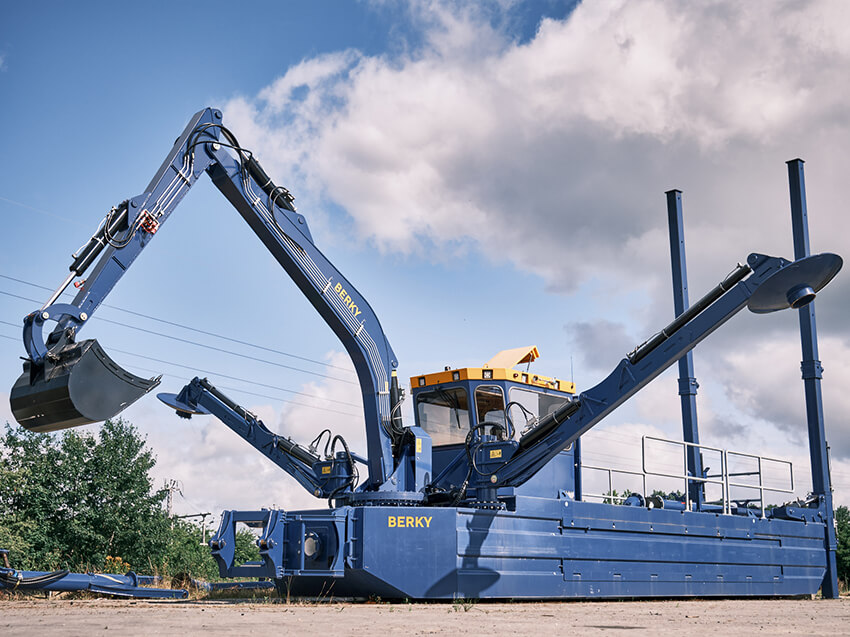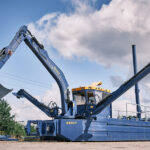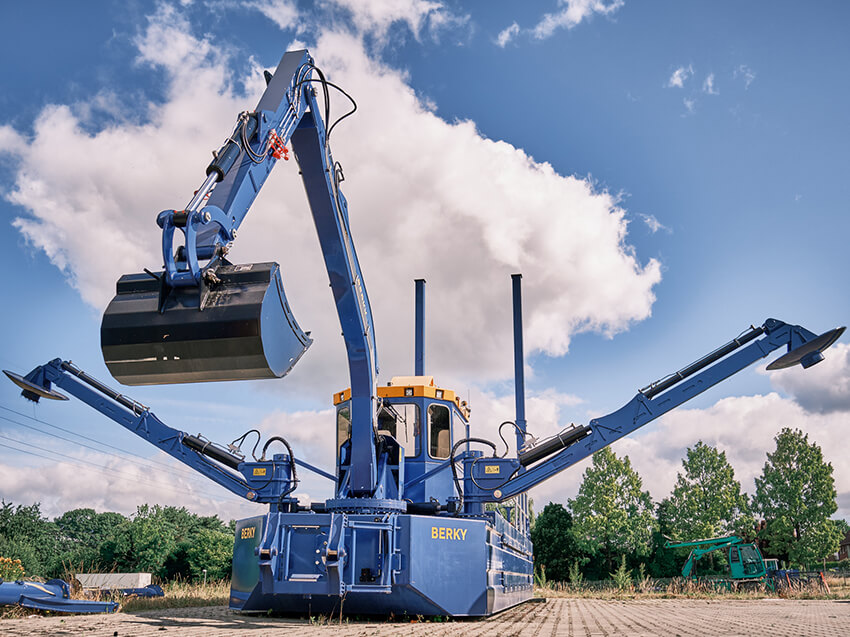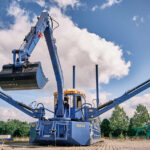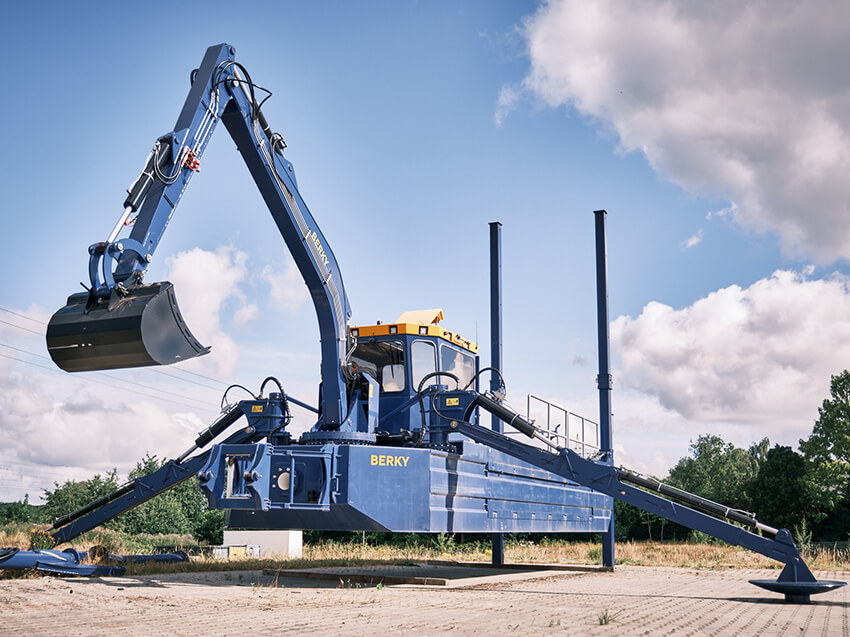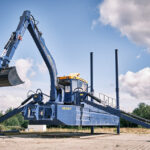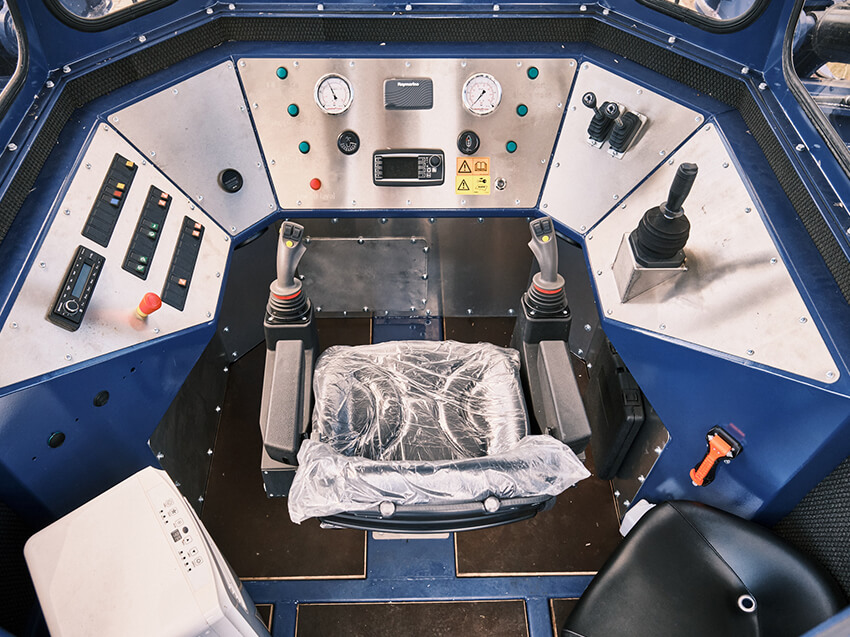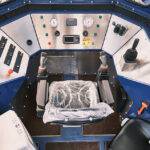 Dredger and desludging boat typ 6780
The BERKY POSEIDON 770 is the largest desludging boat and multifunctional for suction and dredging work. Four hydraulic supports provide the dredger with a high degree of stability during work.
Due to the optimal use of the supports, the desludging boat can load itself, so that no crane unit is necessary. This simplifies loading and unloading, as well as launching the Dredge King. Even short distances can be covered on land thanks to the construction of the dredge.
With the desilting boat BERKY POSEIDON 770 you can realise larger projects and jobs with a small expenditure of time. Rent or buy our large dredge to clear waterways, ponds or lakes of mud or sediment in the shortest possible time.
Possible tools:
ALL PROPERTIES AT A GLANCE
Merkmal
Eigenschaften

Article number

Motor

Stage IIIA/Stage V: 6-cylinder Perkins diesel engine, approx. 186 kW/252 hp

Hull

Steel hull with primer and top coat resistant to aggressive, atmospheric and mechanical influences.
Boat corners with double-walled material support as wearing edge
Running floor made of non-slip aluminium chequer plate

Tank volume

Fuel tank approx. 1,200 l
Hydraulic tank approx. 500 l

Cooling
Traction drive

Two hydraulic drive augers with start-up and weed protection
Drive screws hydraulically tiltable upwards

Steering

Hydraulic swivelling of the drive augers via joystick on the driver's seat

Control

two electric joysticks for boom (Euro control)
one joystick for worm drive, travel speed infinitely variable
Switching of different cylinder functions via PLC

Cabin

Steel cabin fully glazed, with roof hatch, FOPS tested
Clearly arranged controls and monitoring instruments (rev counter and hour meter, temperature display, depth under, hydraulic oil warning indicator, electrical position indicator with transducer for steering, main battery switch)
12 V socket splash-proof
Splash-proof ignition lock and displays
Comfort seat for driver and passenger
Air conditioning, heating, radio
Working lights front and rear

Hydraulic system

L/S pump for drive and slurry pump up to 260 l/min at 280 bar
L/S pump for booms and supports up to 150 l/min at 280 bar
Gear pump for sludge cutter up to 65 l/min at 250 bar
Hydraulic oil: Bio-oil Water hazard class 0

Safety and warning system

Automatic safety shutdown in case of overheating and low engine oil pressure
Acoustic signal when hydraulic oil level is too low

Cantilever

Two-part articulated boom mounted centrally
Swivel range up to 350° (with rigid mud pipe up to 120°)
Length approx. 7.50 m
Working depth up to approx. 5.50 m with backhoe bucket
Working depth up to approx. 6.50 m with cutting head

Supports

Two front supports hydr. swivelling by 115° and telescopic up to 6.00 m length
Two rear supports hydr. tiltable and infinitely adjustable up to 6.70 m depth

Sludge pump

stationary 8/6" pump below deck
Delivery rate up to approx. 770 m³/h

Dimensions

Hull: 10.50 m x 3.00 m x 1.20m (LxWxH)
Pontoons: 5.50 m x 1.00 m (LxW)
Transport: 15.50 m x 3.00 m x 3.00 m (LxWxH)
Draught: 0,60 m
Weight: approx. 22,500 kg
Cabin: 1.90 m x 1.60 m x 1.60 m

Speed

Up to 8 km/h forward
Up to 5 km/h backwards

Standard equipment

Lighting and equipment according to EU regulation
mobile bilge pump
Tool kit
Fire extinguisher, First aid kit, Life belt, Life jacket

Areas of application

Suck out or pump out sediments
Desilting of lakes or waterways
Removal of gravel, sand or soil in the shore area
Clean overgrown and silted ditches
With our dredger boat / desludging boat for efficient water maintenance.
Areas of application
Waterways (rivers and canals), harbours, lakes (reservoir, recreational lake) retention ponds.
Work requirements
Desilting, dredging, collecting, demolition work.
Clean silt from the water bottom, remove sediment, deepen and widen your watercourse with ease.
Ensure better drainage and prevent siltation. This allows hydropower plants to operate without disruption, waterways to flow and a good ecological condition of water bodies to be ensured.
If flotsam, rubbish or aquatic plants such as the Canadian waterweed (Elodea Canadensis) or the thick-stalked water hyacinth (Eichhornia crassipes) have infested your watercourse or are making access difficult, these can be removed thanks to suitable working equipment.
With its powerful 6/8″ mud pump built into the hull, sediment and mud can be pumped from the bottom at up to 770 m³/h and pumped ashore through a pipeline system.
This allows harbours, waterways and lakes to be deepened or freed from foul deposits. Prevent siltation caused by eutrophication processes (accumulation of nutrients in the water body).
Thanks to its long working arm (7.50 m long), it can easily reach almost any water body. Up to nine implements can be used to meet all requirements, regardless of whether the bottom of the watercourse is to be desilted and dredged, aquatic plants are to be collected with a rake, or demolition work is to be carried out on the embankment.
Stable working is ensured by the four working supports (two front supports / two rear supports).
These can be lowered to the bottom of the water to keep the boat stable at the site.
Thanks to these supports, the BERKY POSEIDON 770 can not only load and unload itself effortlessly, but also launch itself independently.
Thus, no additional crane is necessary.
Its compact dimensions also allow it to be transported by truck with a drop deck.
CONTACT US NOW
Request a quotation or have questions about our products? ​