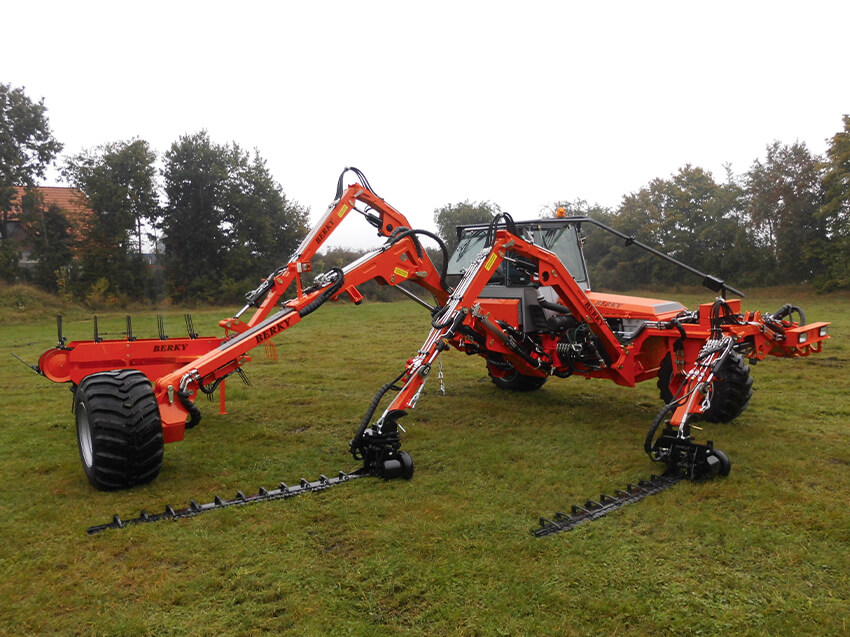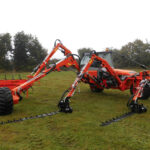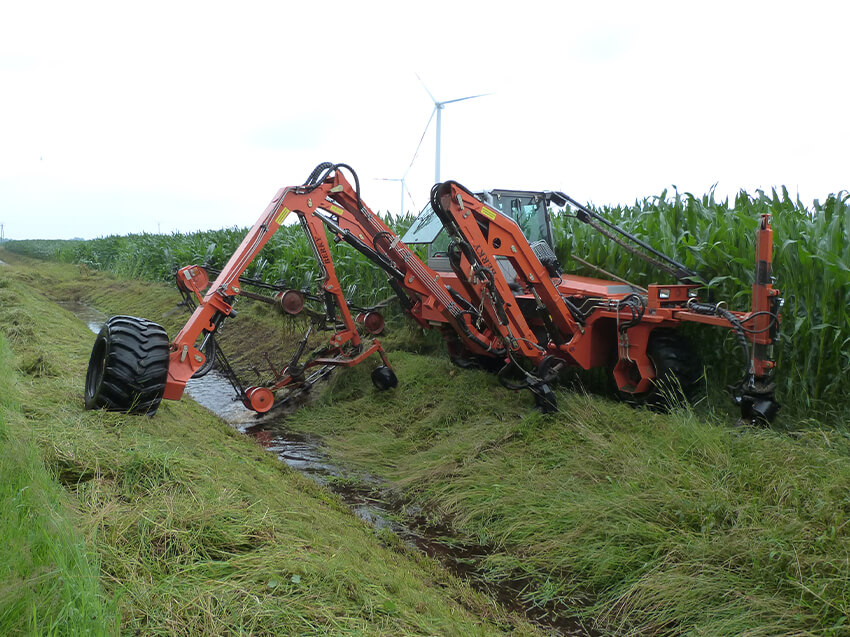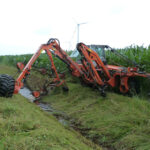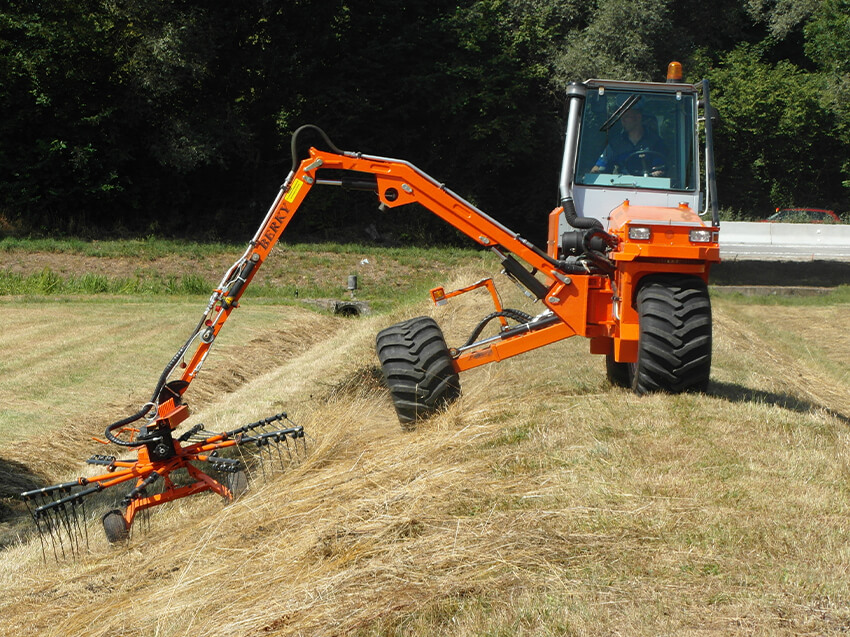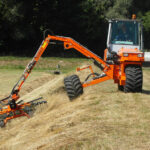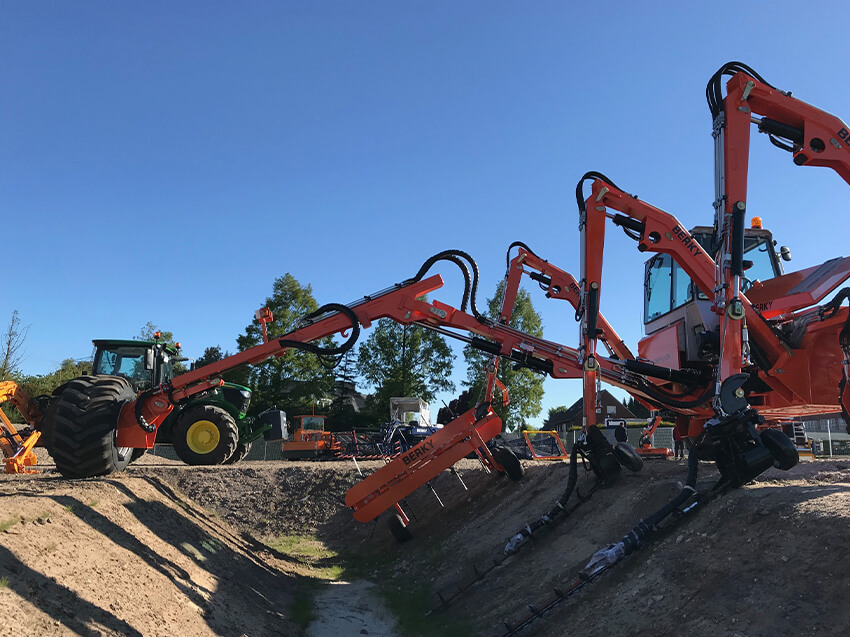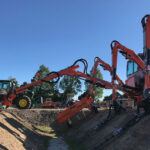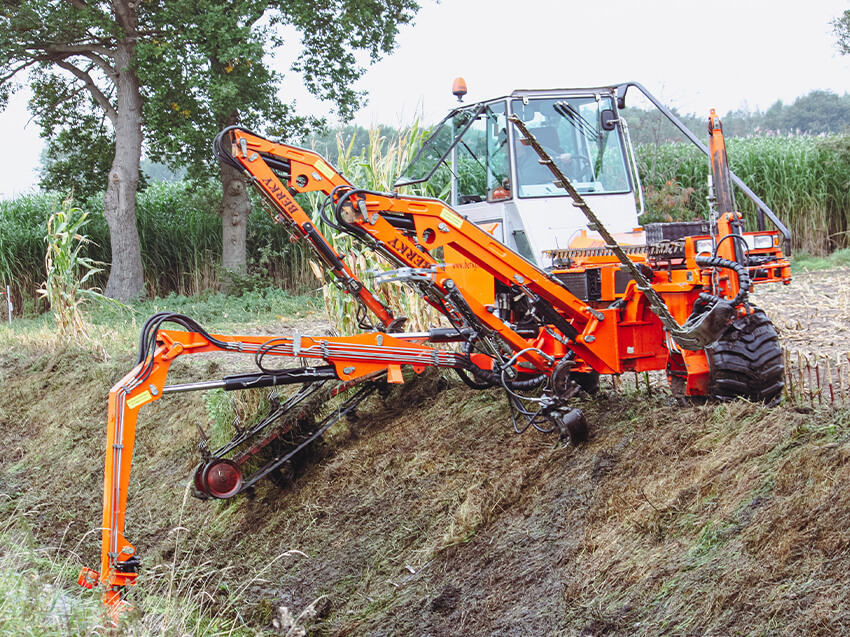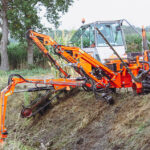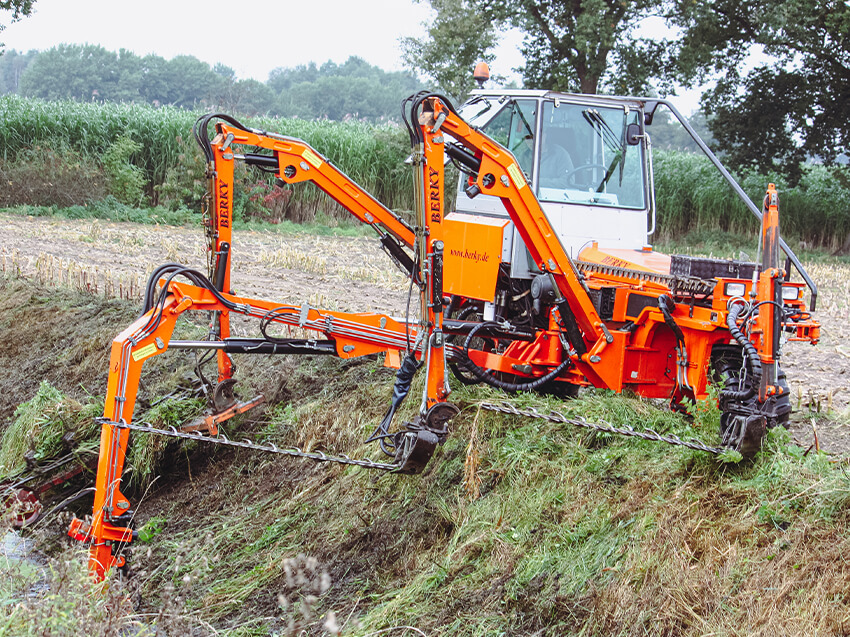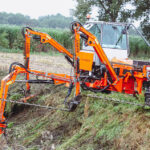 Flexible and efficient trench cleaning on three wheels
The BERKY Slope Mower type 2200 can be used flexibly and impresses with its high efficiency. The small track width of the slope mower allows mowing on fields without affecting the harvest. Thanks to the design and functionality of the slope mower, precise and insect-friendly mowing is possible. Plants such as ragwort (Senecio jacobaea), which are toxic to livestock, are carefully removed from ditches.
With the adjustable support wheel boom, the Slope Mower type 2200 is ideally suited for working on large as well as small trenches.
Maximum efficiency is ensured by the parallel operation of the cutter bar and clearing rake. The slope can thus be mown and the cuttings removed from the bottom of the ditch in one operation. The Slope Mower type 2200 is user-friendly and allows a good view of the working area.
Buy or rent your BERKY Slope Mower type 2200 for uncomplicated work on large and small ditches to free them from superfluous plants or cuttings.
ALL PROPERTIES AT A GLANCE
Merkmal
Eigenschaften
Article number
Motor

Stage V: 4-cylinder Hatz diesel engine, approx. 55 kW/75 hp

Tank volume

Fuel tank approx. 130 l
Hydraulic tank approx. 130 l

Traction drive

Fully hydraulic all-wheel drive with differential lock
Speed infinitely hydraulically adjustable
2 individual encoders with clamping for the drive pumps
Work up to 10 km/h
Transport travel up to 20 km/h
Operation by hand lever
Parking brake
3 wheels, one of which is mounted on the right-hand side with slope adjustment to the slope

Cooling

Electric oil cooler up to 17 kW cooling capacity

Steering

Hydraulic front wheel steering

Control

Electro-proportional control of the cylinder hydraulics of the working booms via joystick
Ergonomic operation through joystick switchover from front to rear boom
Hydraulically pilot-controlled joystick with 2 axes for operating the jockey wheel

Cantilever

Front boom 4.50 m laterally behind the front wheel, rigid
Tail boom 4.50 m, rigid

Tyres

Balloon tyres, ø 1070 mm, 600/40-22.5

Cabin

Fully glazed driver's cab, soundproofed, opening roof hatch and windows, with windscreen wiper
Clearly arranged controls and monitoring instruments (operating hours counter, temperature display)
12V socket
Air-sprung comfort driver's seat, height and length adjustable, swivelling, with seat heating
Air conditioning, heating
Shrub/bush scraper attached to the left side of the vehicle

Lighting

Lighting system according to StVZO

Hydraulic system*

Per boom up to 40 l/min at 180 bar for implements
Floating position of the main arm of the working jib
Hydraulic oil: Mineral oil

Support wheel

Separate support wheel drive that can be switched on/off
Centrally mounted support wheel with hydraulic extension via 2 cylinders by 0.45 m

Dimensions

Road trip: 4.65 m x 2.55 m x 3.40 m (LxWxH)
Transport dimensions: 4.65 m x 2.55 m x 3.30 m (LxWxH)
Ground clearance: 0,52 m
Weight: 4.500-6.500 kg
Front boom: 4,50 m
Tail boom: 4,50 m

Scope of application

Cutting work on small and large trenches
Uncomplicated removal of the cuttings
Ditch maintenance in fields and pastures
CONTACT US NOW
Request a quotation or have questions about our products? ​